Custom Service, Custom Eyewear
At Stahl EyeCare Experts, we are committed to giving you the best vision out of your new eyeglasses and contact lenses. With our many brands to choose from, we want you to not only see your best – but feel your best.
We offer a full-service EyeCare Center with the highest quality of products available in today's market. Our optical stylist and lens experts are available to advise you in choosing the most well-suited frames and lenses, and then hand-crafting them into your best sight from eyeglasses. We are consistently driven by new product knowledge and up-to-date technology to ensure you that you will get the best sight out of your new glasses. Check out our brands offered!
Top Technology
We are equipped with the "i.Terminal" by Zeiss, which allows us to provide patients with the most accurate measurements as well as provide them with completely customized lens design. Being one of the few Zeiss authorized dealers, we can ensure that you are getting the top technology to help you see your best.
Zeiss lenses are customized for your vision needs, whether it be for the most widely used single-vision lenses or progressive lenses. Zeiss lenses will give you seamless vision from the smallest detail to the bigger picture – all tailored to your visual habits. Our iTerminal will ensure that the measurements taken for your new eyeglasses are precise, leaving no room for error. Let's ditch the ruler together!
Premium Progressive Lenses
We only dispense the most technologically advanced lenses and are proud to offer our patients the newest, thinnest, and lightest 1.74 High Index lens. Our premium progressive lenses, all made with free-form technology, provide visual correction for distance that traditional lined bifocals could not. Zeiss progressive lenses provide you with the most natural vision. Not only will you be able to see things both near and far, but also all the distances in between known as the intermediate zone.
Choosing the appropriate progressive lens is the only way to achieve outstanding vision. The "supermarket/discount" optical uses second tier progressive lenses. These lenses have significantly more distortion throughout the lens and a smaller intermediate reading zone, thus making it more difficult to adjust to wearing your lenses. Wearing our premium progressive lenses, you will be able to seamlessly see distances near and far without any discomfort.
Zeiss Progressive lenses have the least amount of distortion. These premium progressive lenses help you regain the ability to see at all distances smoothly and more naturally.
The Stahl Guarantee
We at Stahl believe that quality and service should be available at fair and competitive prices. We are so confident in our quality that all of our eyeglasses come with a 30 Day Unconditional Free Replacement Guarantee. We call it our:
Peace of Mind Protection.
Good for 30 days from the original date of dispensing, you may return your eyewear for any reason to the location of purchase and we will adjust, repair, or replace the frame or lenses with a pair of equal value at no cost to you. If you do not adapt to our premium progressive lenses, we will switch you into either single vision or bifocal lenses at no additional charge.
---
Galo Andrade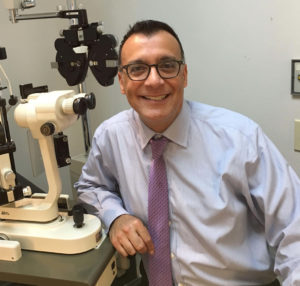 Galo Andrade is a multi-faceted contact lens practitioner and optician. He is regarded as an industry leader in specialty contact lenses, specifically rigid gas permeable and scleral lenses. Galo received the Blanchard Labs OneFit Scleral Award in 2016 as he was recognized as the leading OneFit Scleral Lens Practitioner in New York State. Galo has helped thousands of patients with corneal dystrophy such as keratoconus, post graft, and other corneal ailments to achieve their best visual correction using specialty contact lenses. He is committed to finding solutions for patients with no previous alternatives other than corneal transplant surgery.
Certified by the American Board of Opticianry and the National Contact Lens Examiners, he is an active member of the Scleral Lens Society, the Contact Lens Society of America, Contact Lens Association of Ophthalmologists (CLAO), and the National Academy of Opticianry (since 1987). Galo is a certified ophthalmic assistant who works closely with the physicians at Stahl on patient refraction and is a specialist in the evaluation of muscle deficiencies as well as in prism and its application. He is a pioneer in CRT (corneal refraction therapy) specializing in myopia control for over 15 years.
In addition to being at the forefront of some of the newest developments in the contact lens arena, Galo is also a great teacher to all members of his optical team at Stahl. He is upbeat and passionate about his craft, and he encourages his staff to have fun while pursuing excellence every day. Galo is committed to continual research and learning as an optician and contact lens specialist; in 2007, he took part in the first Global Keratoconus Symposium, and he was recently hand selected by Blanchard Contact Lens Inc. to complete a specialized certificate in BCL Research and Professional Development.