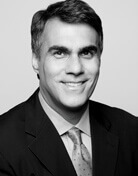 A little background information on one of our three wonderful eye care doctors in New York. Have any other questions you want to ask Dr. Werner? His favorite animal? Movie recommendations? Leave them in the comments below!
Where are you originally from?
I was born in Brooklyn, moved to Long Island when I was 6, and then was raised on the south shore of Long Island. I've been in New York my entire life and don't plan on leaving anytime soon.
What is your favorite memory from your years at Johns Hopkins?
I have many great memories, but I remember always being so impressed with the quality of the professors and how they approachable they were. My very first lecture at Hopkins was given by Nobel Prize Winners, Daniel Nathans. MD and Hamilton O. Smith, MD! It would be easy to be intimidated, but these physicians were so nice and loved teaching so much. They were great role models.
How many years have you been practicing laser surgery?
I have been practicing laser vision correction since 1996 and began doing LASIK around 1998.
What made you pick ophthalmology, particularly LASIK, as a specialty?
In medical school, you expose yourself to many different rotations (ob/gyn, pediatrics, infectious diseases, surgery, etc.) and the one that interested me the most was ophthalmology. I liked the fact that it has both a medical and surgical component to it and the Hopkins department of ophthalmology is probably the best in the world.
Favorite thing about New York?
Without questions, what I like most about New York is the diversity of its people.