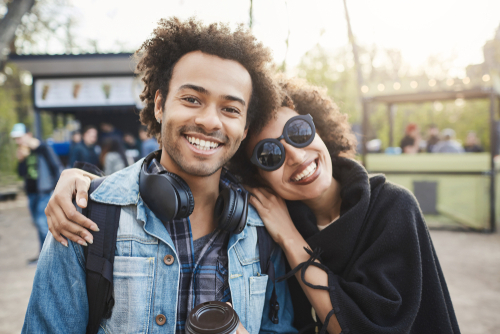 When it comes to conventional versus custom LASIK, patients tend to prefer custom LASIK. Custom LASIK, also referred to as blade-free LASIK, is perfect for those who live an on-the-go life and are just tired of dealing with the hassle and inconvenience of prescription eyeglasses and contact lenses.
LASIK stands for laser assisted in situ keratomileusis and is a very common, painless, and quick procedure designed to correct refractive errors.
Refractive errors include:
Myopia (nearsightedness)

Hyperopia (farsightedness)

Astigmatism (distorted or blurry vision)
Advantages Of Blade-Free LASIK
100 Percent Customizable
With the benefit of advanced wavefront technology, custom LASIK (also known as CustomVue™) is 100 percent customizable to each patient, providing a higher possibility for achieving perfect vision or even better than 20/20!  Wavefront technology scans the eye, creating a 3-D image that allows the procedure to pinpoint your exact vision problems, which the laser is then programmed to target. Custom LASIK also boasts a lower risk of post-op complications, as Wavefront Technology removes the possibility of human error.
Blade-Free LASIK Is More Effective Than Conventional LASIK
Conventional LASIK is very effective for those that are not good candidates for custom LASIK, but it does have its limitations. Conventional LASIK cannot treat lower and higher deviations from normal vision (also known as aberrations). Conventional LASIK is limited to being able to address and correct lower order aberrations, while custom LASIK is capable of addressing and correcting both lower and higher aberrations which include halos, glares, and blurriness.
It's Blade-Free
With conventional LASIK, your LASIK surgeon will physically cut a tiny flap in the cornea after your eye has been numbed. At this point, the laser reshapes the cornea to allow light to properly focus on the retina. This is how LASIK corrects refractive errors. Conventional LASIK is limited to providing non-customizable vision correction, since it is equivalent to putting a pair of prescription eyeglasses on. No two pairs of eyes are alike, and custom LASIK addresses what conventional LASIK cannot, without a blade ever touching the surface of your eyes.
Are You A Candidate For Custom LASIK?
Like traditional LASIK, not everyone will be a candidate for custom LASIK. You may not be a good candidate if you have severe astigmatism, severe myopia (nearsightedness), or small pupils. Custom LASIK has a very strict set of qualifications for candidates. If your LASIK surgeon decides against custom LASIK for you, you may still be a candidate for conventional LASIK. Make sure to ask about your options during your LASIK consultation.
Custom LASIK Cost
The average cost of conventional LASIK in 2017 was just over $2,000. Custom LASIK is probably going to cost around $6,000, but keep in mind that prices will vary depending on region, state, and the type of facility you select for your LASIK surgery. It's important to discuss any questions that you may have about cost with your LASIK surgeon before surgery so there are no surprises.
Want to learn more about LASIK candidacy? Contact the experts at Stahl Eyecare for your consultation today!