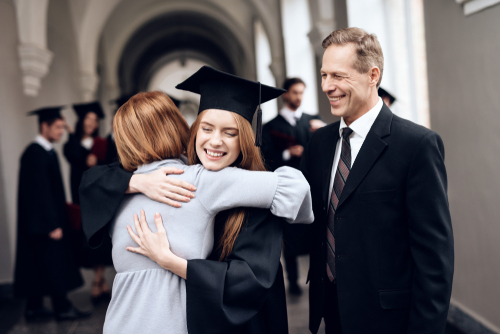 Have someone special in the family who is graduating from college? Maybe they lament wearing glasses or contacts every time you see them.
Why not give them the gift of LASIK? Keep reading to learn why this is the gift that keeps on giving!
LASIK will save them money
Students about to graduate from college have a lot to pay for. Rent, student loans…the list goes on and on! Did you know that by having LASIK, you can save them money?
Think about how much money they may be spending on glasses and contacts every year. Contacts especially are a money suck!
Wearing dailies means they need changing every day to new ones. Even monthly contacts mean they are spending a lot of money to get their contacts when they run out.
Consider how much money they'll save because they can stop worrying about contacts!
LASIK provides them with freedom

We can't think of a better gift than giving someone the freedom to see! Glasses and contacts are a temporary solution, at best. Giving someone the freedom to see can do so many things.
They can travel spontaneously because they won't have to deal with packing glasses! They can exercise with ease since there are no more contact lenses threatening to dry out in their eyes.
They can run into the ocean without worrying about losing their prescription sunglasses. It's the little things that really add up after someone undergoes LASIK!
Why life after LASIK is worth it
No more expensive prescription sunglasses!
It's hard to be fashion forward when you have the same pair of prescription sunglasses. After LASIK, your graduate can wear all the funky and fun sunglasses they want!
No more foggy glasses
Winter after LASIK is a lot easier because you don't have to deal with foggy glasses! Seriously, there's nothing more frustrating than being cold and unable to see at the same time.
Travel anywhere

Travelling is easier when you don't have to worry about bringing spare contacts and glasses!
Just remember to bring sunglasses, your towel, and sunscreen. You should still be smart in the sun even after LASIK.
You can fall asleep without worries

College was probably full of all-nighters and plenty of caffeine. All night study sessions become easier when you don't wear contacts or glasses. Falling asleep is inevitable, but it can be a bad thing.
Falling asleep with contacts in can hurt your eyes! Falling asleep with your glasses on could mean scratching or damaging them. You can say goodbye to these worries after LASIK.
Let your makeup steal the show

This is more for those who wear glasses since they often block your face. Ever spent hours on your look and then put your glasses on? It's not the same!
Your glasses are in the way and detract from any makeup you may have put on. You can say so long to this problem once you have LASIK too.
Ready to give the gift of LASIK to your favorite graduate? Contact Stahl Eyecare Experts in Long Island to schedule a LASIK consultation!