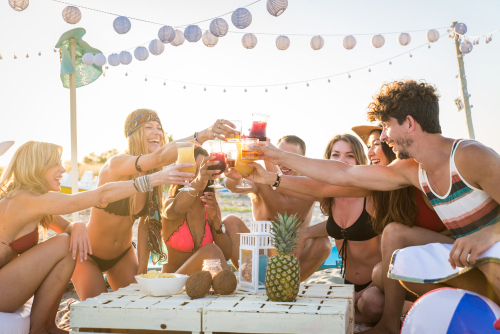 Over the years, LASIK has become more and more popular. Maybe you know someone who has gotten it done, or you've thought about getting it yourself.
Of course, the best benefit of LASIK is you get to have perfect vision. But there are other benefits you might not think about.
Keep reading for 5 reasons why LASIK is life-changing!
Travel Light
Traveling is fun, but trying to pack all your glasses or contact lens essentials is not. You have to worry about packing your glasses, contacts, lens solution, etc.
Not to mention, glasses and contacts can be a pain on a long flight. With LASIK, you don't have to worry about any of that!
It will make packing and traveling a whole lot easier! Plus who doesn't want to enjoy the scenery around them in crisp 20/20 or better? You can have all this and more thanks to LASIK!
Enjoy Summer Activities Lens-Free
Summertime is full of many fun activities! Too bad they aren't nearly as fun if you're wearing glasses.
Imagine being able to dive into the pool without the worry of taking off glasses or contacts. Or laying on the beach and not worrying about getting sand in your contacts. You can enjoy doing whatever activity you love without lenses holding you back!
Rock Whatever Style You Want
Let's face it, sometimes your glasses frames don't go with your style. Yet having many different pairs of glasses is expensive.
Not to mention the hassle of having to pick out a pair of glasses to match your outfit. LASIK gives you the freedom to rock whatever style you want without the hassle of glasses. Plus perfect vision looks good on everyone!
Save Money
It's likely that you've heard that LASIK can be a little pricey. When you are only looking at the cost of the procedure, then it does seem that way.
But take a look at how much you spend yearly on glasses, contacts, and all the essentials needed. While LASIK may seem costly, you only pay that once and then you get to enjoy 20/20 vision for life!
Not to mention Stahl Eyecare Experts offers financing options! There's no reason that cost should stand in your way of getting LASIK if you want it!
No More Headaches
For those who work in an office where they look at screens all day, glasses or contacts tend to cause headaches. Glasses wearers may also get headaches from the way their glasses sit on their face.
After LASIK, you won't have to worry about any of that! It's a lot easier to look at screens all day when you don't have glasses or contacts.
Wondering if LASIK could be right for you? There's only one way to find out if it is! Schedule your LASIK consultation at Stahl Eyecare Experts in Hauppauge, NY now! Isn't it time you started seeing the world it was meant to be seen? We think so!