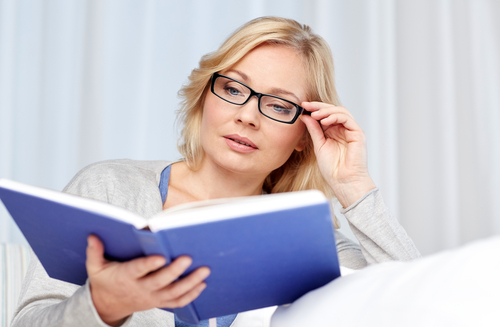 Do you find it difficult to see clearly when you try to read something? Have you gotten your eyes examined recently?
Here at Stahl Eyecare Experts, we are ready to help you with all your reading glasses needs.
The aging process affects all parts of your body, including your eyes. As you get closer to your forties, the natural lenses in your eyes become less flexible. It is more challenging for your lenses to transition from near to far vision.
While your lenses become less flexible, your nearsightedness gets worse. This is a condition called presbyopia. People who have this condition might need to start thinking about getting reading glasses.
Signs You Need Reading Glasses
There are many signs that you could need reading glasses. Some of them are you have difficulty seeing tiny print in dimly lit places.
Your eyes may start to hurt if you try to sew, read or do any work too close to your eyes. Or you may start getting headaches when you try to read.
Another sign is that when you try to hold a book or any other reading material close up, it appears to be blurry. To read, you need to hold everything farther away to see it clearly.
Options for Reading Glasses
There are two options for getting reading glasses. You can either go to the eye doctor and get a prescription or you can get an inexpensive pair at the drug store.
These are usually called readers. To figure out the strength of the glasses, you should look on the tag. The strength of a lens is measured in a unit called diopters.
For most reading glasses, the lowest strength is 1.00 diopters. Prescriptions increase in strength factors by .25 (ex. 1.25, 1.50, 1.75, 2.00, etc.). Usually, the strongest reading glasses are 4.00 diopters.
It is important to test out a few pairs to see which one is best. To do this, you should hold a piece of reading material like a magazine or book about 14-16 inches away from your face.
See if the glasses make it easier to read the font or not. It is possible that you could need two different pairs, one for reading up close (ex. books) and one for reading a little farther away (ex. computer screens). You should pick out the lowest number of strength glasses that meet your needs.
Visit Our Optical Shop For Your Reading Glasses Needs
We recommend getting a more customized pair of glasses from our optical shop. They will be custom designed for your vision needs.
Prescription reading glasses will fit you better than readers from the drug store. They also can help correct conditions, like astigmatism, which drug store readers cannot.
Prescription glasses can have two different strengths in them. This is helpful for people who have two different prescriptions.
Plus, you can pick from a variety of brands and colors to find a pair that looks great on you! Some of the brands we offer include Versace, Oakley, Prada, Ray-Ban, and many more!
It is important to remember that as you age, your vision changes too. You might need to replace your reading glasses every year or two.
Do you think that you need reading glasses? Schedule an appointment at Stahl Eyecare Experts in Garden City, NY today!