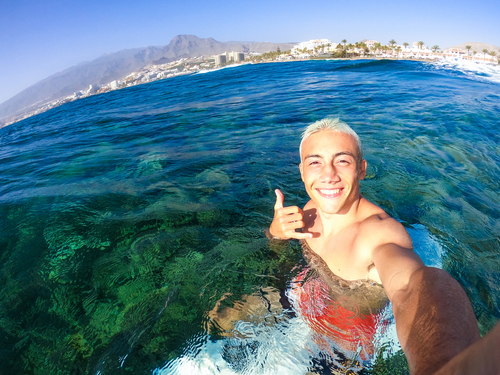 Do you enjoy spending time in the sun? Have your eyes ever started hurting after a day outside?
When your eyes experience discomfort or pain after time in the sun, it could mean that you are developing photokeratitis. Keep reading to learn more about keratitis!
What is Photokeratitis?
Photokeratitis is an eye condition that patients develop after exposure to ultraviolet rays. Your eyes can be exposed to UV rays through the sun or artificial lights.
If you have keratitis, it's almost like your eye developing a sunburn. When you have photokeratitis it impacts the thin outermost layer of the cornea and the conjunctiva.
The thin outer layer of the cornea is the clear part of the eye. The conjunctiva is the clear tissue that covers the white part of the eye and the inside of your eyelids.
What can cause photokeratitis?
The cause of photokeratitis is ultraviolet (UV) rays. The rays damage the eye. The main source of UV rays is sunlight.
If you spend time outdoors near water, sand, ice or snow, you can develop photokeratitis from the reflection of the sun. If you stare directly at the sun, like during a solar eclipse, you can develop photokeratitis.
Remember, besides the sun, there are man made forms of ultraviolet light. Man made examples include tanning lamps, arc welding, and tanning beds.
The best way to protect your eyes from all forms of ultraviolet light is to wear the appropriate eye protection.
What are the symptoms of photokeratitis?
There are many symptoms associated with photokeratitis. You may not know that you have photokeratitis until your eyes have already suffered damage. Signs and symptoms include:
Pain
Blurry vision or seeing halos around lights
Red eyes
Watery eyes
A gritty sensation in your eyes
Eye swelling
Developing a sensitivity to bright light
Headaches
Smaller pupils
Eye twitching
Some rarer symptoms include temporary vision loss or noticing that colors look different. When you spend more time in the sun without eye protection, it can lead to more severe damage for your eyes.
How does a doctor diagnose photokeratitis?
When you go to the eye doctor, they will discuss your outdoor activities. They will also examine your eyes, and use special eye drops to look for UV damage. The eye drops having fluorescein dye in it.
How is photokeratitis treated?
Usually, photokeratitis heals on its own. Treatments you receive are usually targeted at making you feel better.
While your eyes are healing, you should avoid wearing contact lenses and going in the sun.
To treat any discomfort, try closing your eyes and putting a cold washcloth on them. You may also want to use artificial tears as recommended by your eye doctor. If you are experiencing any pain, take pain relief medication, and use antibiotic eye drops recommended by your doctor.
While your eyes heal, avoid touching them. After a few days, the severity of your symptoms should decrease.
Wearing sunglasses, snow goggles, and welding helmets that protect your eyes from UV rays is key whenever you are outdoors.
Do you think that you have photokeratitis? Schedule an appointment at Stahl Eyecare Experts in Manhattan today!