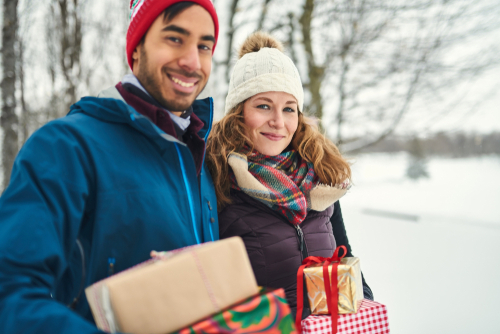 Gift shopping for your friends and family can be very fun. Everyone loves to get a thoughtful gift.
Seeing the smile on the faces of your loved ones is one of the best parts of the holiday season. But have you given much thought to what holiday gift you will be giving yourself this year?
Self-care is an important part of the holistic part of your health. It's important that you spread the holiday love internally as well as externally. When it comes to getting yourself a holiday gift, there is nothing more perfect than LASIK.
LASIK is an incredible investment into your personal health, and especially for the health of your eyes. It lets you live life without having to worry about prescription glasses and contact lenses.
It's a quick outpatient procedure that will have you in and out in less than an hour. After a quick two or three days of recovery, you'll be able to enjoy life to the fullest. No more being held back by your vision problems.
Wouldn't you like to go through life seeing in 20/20 or better? This could be your new reality when you decide to undergo LASIK!
Keep reading to learn why LASIK is the perfect holiday gift for yourself this year!
1. Winter Sports
Winter sports are some of the best ones around! From snow skiing and snowboarding to sledding and ice skating, it doesn't get much better!
Being active out in the snow is one of the best parts of the winter season. If you're a hockey or football fan, then the colder months are likely some of your favorites. The same goes for all the basketball enthusiasts. High school, college, and professional sporting events are a lot of fun.
LASIK can help you enjoy these sporting events even more with perfect vision. No more fogged up lenses or cleaning your glasses or having to deal with your contacts slipping out.
Instead, you'll have the perfect vision, for perfect sporting events weather. What more could you ask for?
2. Holiday Parties
The holiday season brings a slew of holiday parties. Most people have an office holiday party, a get-together or two with their friends, and family dinners.
Make sure that you look and feel your best at these parties by giving yourself the gift of perfect vision. LASIK is the very gift to make that happen.
3. Spend Your Surplus Flex Dollars on LASIK
Why not give yourself the gift of LASIK by paying for it with the money you've already set aside for your health? Flexible spending dollars really come in handy throughout the year.
Surplus flex dollars don't roll over into the new year. When it comes to surplus flex dollars, you can either spend them or lose them.
This year, use your surplus flex dollars to give yourself the holiday gift of LASIK. You'll be glad you did.
Leave your prescription glasses and contact lenses in the past this holiday season with the gift of LASIK. The first step is a LASIK consultation.
Schedule yours today with Stahl Eyecare Experts in Garden City, NY! Haven't you spent too much time not experiencing the world with the clear vision you've always wanted?