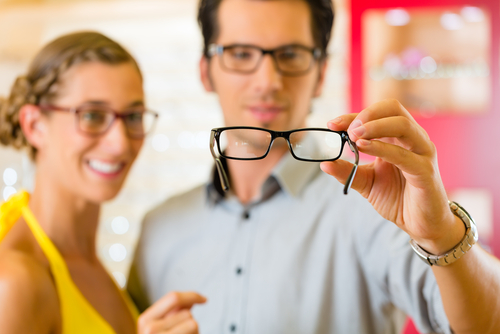 Glasses are the most common way to deal with poor eyesight. They provide clear vision and are reliable, even if they can be a hassle to deal with.
One of the biggest problems people have with glasses is how they look on their faces. Contacts are a common way to get around this since they provide vision while unnoticeable in your eyes.
But they come with problems too, like needing continual replacement and being difficult to put in and take out. LASIK is another fantastic way to no longer need to rely on glasses.
Unfortunately, though, LASIK may not be a viable option for everyone. Fortunately, if you must use glasses, there is a way to select frames that will fit your face perfectly!
Keep reading to learn how to select the best-looking glasses frames for your face!
The Shape of Your Face Determines The Right Glasses For You
The frame's shape is the most critical factor when choosing an attractive new set of frames for your glasses. The key to selecting the best frame shape for you is knowing and embracing your face shape.
There is a wide variety of face shapes. They include:
Heart-shaped
Triangular
Square
Round
Oval
Each of these has distinct characteristics and an ideal frame shape to go with it.
A heart-shaped face has a broader forehead, narrower chin, and rounder cheekbones. If you have a triangular face, your shape is similar to a heart-shaped one but with more angular cheekbones.
Square faces feature a wider forehead with a matching jawline and angular characteristics. A round face is like a square face and has equal proportions but softer characteristics.
Finally, oval faces generally have equal proportions but are longer. They tend to become narrower at the top and bottom.
Choosing Frames That Complement Your Face
When you get a new pair of glasses, it is best to start by determining your face shape. Once you know that, you can look for frames that balance out your facial features.
Rounder faces should look for more angular frames. This combination will add some sharpness to your facial profile.
If you have a more angular face, you should invest in rounder frames. These will soften your already distinctive features.
People with smaller chins benefit from glasses with frames that are thicker at the top. In comparison, wide-jawed individuals should get glasses with thin bottoms to their frames.
The goal is not to draw attention away from perceived flaws but to add interest to certain parts of your face.
Oval faces are unique in that they can wear most styles. The oval face shape is most common, explaining why so many types seem to work for them. Some face shapes have more options than others, but all have unique styles that complement your features.
Get Creative When Selecting New Glasses!
Following trends is an excellent way to look good to more people, but breaking the rules can be just as gratifying. Experimenting with different colors and different shapes can be fun and rewarding.
Plus, it's the only way to find out which styles speak to you.
Are you ready to upgrade your look with new glasses? Schedule an appointment at Stahl Eyecare in Hauppauge, NY, to find the perfect pair for you!